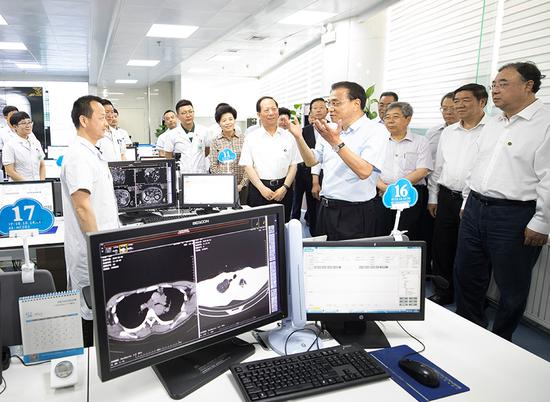 Premier Li Keqiang has a look at how the internet is integrated with medical care at Yinchuan No 1 Hospital in Yinchuan, Ningxia Hui autonomous region, on Monday. Local officials said remote diagnoses has improved the local people's access to healthcare. (Photo/Xinhua)
Premier calls for boost in public's livelihoods in visit to Ningxia
Premier Li Keqiang called for further integration with the internet to improve key public services, including healthcare and education, during his one-day trip to the Ningxia Hui autonomous region on Monday.
Li visited hospitals, schools and local communities in Yinchuan, the region's capital, ahead of the 60th anniversary of the establishment for the region in October.
At Yinchuan No 1 Hospital, the premier listened to reports on the integration of the internet with healthcare. An internet hospital system, based in the hospital, has covered all communities and townships in Ningxia to provide long-distance diagnoses and treatment.
Local officials said remote diagnoses have promoted quality healthcare services at local levels, making it possible for patients who had to be treated in big cities, such as Beijing, to get diagnosed in their own homes.
Li talked with community doctors and Beijing's healthcare experts via the online system and encouraged them to keep working for improved healthcare services
There is great potential for the internet to integrate with key fields related to people's livelihoods, Li said. The integration should facilitate access for people in remote and poverty-stricken areas to high-quality resources and services, which can also promote social equality, he said.
Li called on Ningxia to play a leading role in aligning the internet with healthcare for the benefit of people of all ethnic groups. The central government will offer its support, he said.
At Minning High School in the suburban county of Yongning, students showed the premier how they used tablets to learn from online classes in a "smart classroom".
Education is key to obtaining knowledge at a fair starting line, and its integration with the internet can endow children in less-advantaged areas the opportunity to learn from top teachers, which can broaden their horizons and inspire them to change their own lives, Li said.
Currently, rural areas lag in information infrastructure and need more government investment to solve problems, such as slow broadband speed, Li said.
The premier also asked about teachers' incomes and reiterated that teachers' salaries at compulsory education schools should not be lower than local public servants 'average pay. Teachers, especially in compulsory education schools, are inspirers of children and should be respected, he said, adding that the State Council, China's Cabinet, will send inspection teams across the country to check the implementation.
In 2016, Li visited the village of Qingshi in Guyuan, Ningxia, a place plagued by poverty and drought for decades. More than 700 households have been relocated from the village to Yinchuan.
Villagers told Li that they have access to better infrastructure, including tap water, and earn more now. Li encouraged them to work harder for better lives.