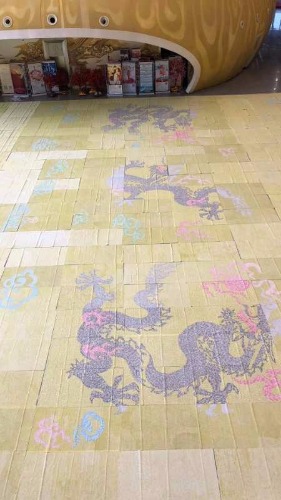 A view of the fingerprint painting. (Photo provided to chinadaily.com.cn)
A painting stamped with more than 4.8 million fingerprints and cost over 80,000 yuan ($12,487) in paper has set the Guinness World Record for the largest fingerprint painting.
The fingerprint painting, named Descendants of the Dragon, was created by Kuang Xianpeng, a 35-year-old painter from Zhuzhou, Hunan province. It depicts a mix of nine Chinese dragons and six arts in ancient Chinese culture which are rites, music, archery, chariot, calligraphy and mathematics.
With a surface area of 1195.14 square meters, 51.526 meters long and 23.195 wide, the whole painting used 685 pieces of xuan paper, a paper originating in ancient China for writing and painting, and took Kuang over two years to complete.
It also took 40 volunteers two whole days to lay out the painting for Guinness certification officer to measure.