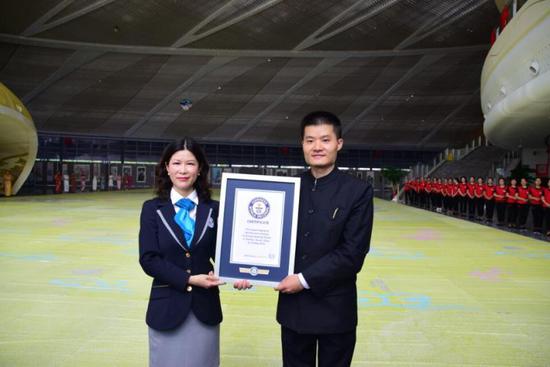 Kuang Xianpeng receives a Guinness World Records certificate. (Photo provided to chinadaily.com.cn)
Kuang said it was a very challenging journey, and he'd used up all his spare time to finish the work. "It was very hard to master the amount of strength you put in your fingers," he told Sanxiang Metropolis Daily. "You can't press too hard or too light, otherwise your prints will blur. I have wasted over 300 pieces of paper due to blurred fingerprints."
The Guinness certification officer Luo Qiong said this world record was not easy to earn. She said each fingerprint must be clear, the painting must have more than four different colors, and the distance between each fingerprint must not exceed 1 centimeter.
The world record for this category had been broken 15 times since 2014, with the previous one set by an Indian with a work measuring 1,188 square meters.
Before this painting, Kuang had spent 14 years in drawing a pen-and-ink painting of 247 meters long and 1.6 meters wide, telling stories of historical myths. He also said he would never stop exploring more creative works.