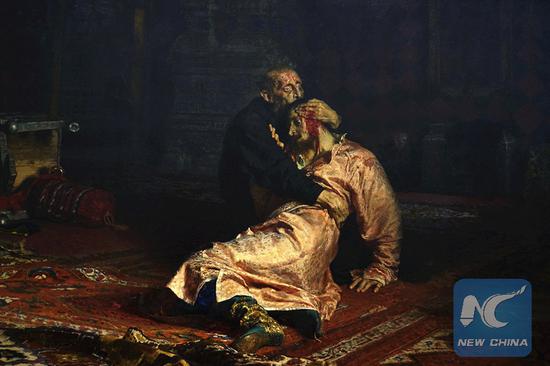 Ivan the Terrible and His Son Ivan on November 16, 1581 (public domain)
Ivan the Terrible and His Son painting, a masterpiece by Russian realist painter Ilya Repin, will be exhibited in a bullet-proof glass case after it is repaired following an attack.
Zelfira Tregulova, director general of Tretyakov Gallery, made the remarks on Monday after the famous painting was damaged in the gallery by a drunk vandal on Friday, according to TASS news agency.
Just before the closing time of the gallery in downtown Moscow, the perpetrator smashed the glass covering of the painting with a metal pole, piercing the canvas in three places in the central part of the painting, which luckily is repairable.
The vandal has been detained and criminal proceedings have been launched.
Tregulova slammed the attack as "an awful and frightening incident suggesting that society is gripped by aggression."
Russia's largest Sberbank said on Monday it will fund the restoration of the painting, which will take a long time and possibly cost 5 to 10 million rubles (about 80,000 to 160,000 U.S. dollars).
Completed in 1885, the painting depicts grief-stricken Ivan the Terrible, one of the cruellest tsars of Russia, cradling his dying son after accidentally giving him a fatal strike.