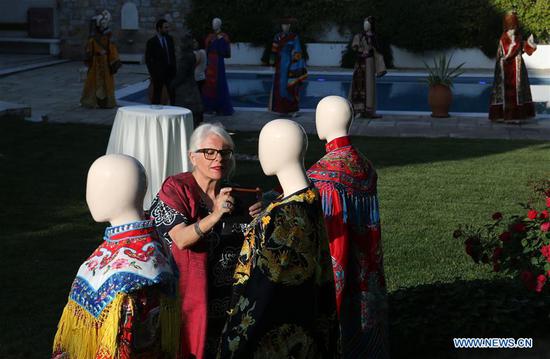 A woman takes photos of Chinese opera costumes during a donation ceremony in Athens, capital of Greece, on May 23, 2018. The Chinese embassy in Athens donated a collection of 22 Chinese opera costumes to Greece in a ceremony held in Athens on Tuesday. (Xinhua/Marios Lolos)
The Chinese embassy in Athens donated a collection of 22 Chinese opera costumes to Greece in a ceremony held in Athens on Tuesday.
The costumes come from the several Chinese delegations that have visited Greece in recent years and were officially donated to Greece's Piraeus Bank Group Cultural Foundation.
They will soon be put on display at the thematic Silk Museum of Soufli in northern Greece, a major silk-producing center in the late 19th through to the mid-20th century, as well as the state-run Museum of Asian Art on Corfu island in western Greece.
In addition to the theatrical costumes, the embassy donated also a traditional Miao minority costume.
Cultural exchanges have been at the forefront of China-Greece cooperation, as both countries attach great importance to culture as a means to promote understanding, speakers said addressing the ceremony.
"We have no secrets, let alone weapons, but only a bicycle. Its front wheel is an example of cultural exchange, and its rear wheel of pragmatic cooperation," Chinese Ambassador to Greece Zou Xiaoli said, explaining the "secret" of a successful China-Greece relationship.
Cultural exchanges between China and Greece are founded on the shared values of mutual respect, equality, inclusiveness and mutual learning, he added.
"Against a backdrop of profound and complex changes in the international landscape, China and Greece have not forgotten their historical responsibility and mission as two ancient civilizations and have spared no effort in working together with all nations to promote global cross-cultural dialogue and exchanges," Zou said.
China has shaped Asian culture, in the same manner that Greece has done for Europe, Sophia Staikou, the Chairperson of the Piraeus Bank Group Cultural Foundation, said at the ceremony.
The reconstruction and advancement of the Belt and Road Initiative will help create economic as well as cultural growth worldwide, she added.
"We consider of great importance the donation of Chinese theatrical costumes of great artistic value," said Despina Zernioti, the director of the Corfu Museum of Asian Art.
According to Zernioti, Corfu's Museum of Asian Art is the only state museum in Greece dedicated to Asian art and its collection of Chinese artifacts is considered as one of the most important in Europe.
"We need to view the relations between the two countries as a strategic partnership which will last long and is not limited to short term alliances ..." said Greek Deputy Minister for Economy and Development Stergios Pitsiorlas. "This strategic partnership should be built on the interaction of the two great civilizations."