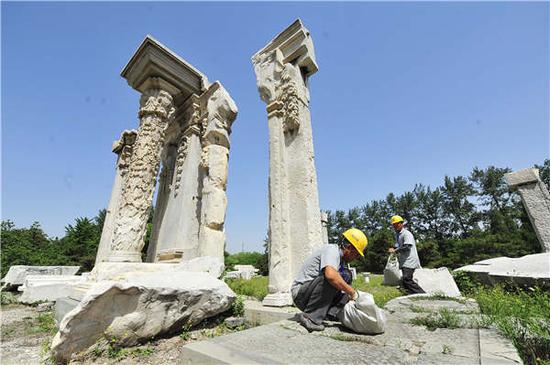 Workers pull weeds at the Yuanying Guan ruins at Yuanmingyuan, or Old Summer Palace, in preparation for a project to preserve the standing pillars. (Photo by Yuan Yi/For China Daily)
The surviving remnants of columns and gates in Beijing's Yuanmingyuan - or Old Summer Palace - will be reinforced to prevent them from collapsing, park officials said on Wednesday.
The ruins have been preserved for nearly 160 years as a symbol of the nation's collective pain after they were destroyed by foreign military forces in the mid-19th century.
Foundations of the stone remnants in the ruins of Yuanying Guan (Immense Ocean Observatory) will be strengthened as part of the project, which will last until late September, according to the administrative office of Yuanmingyuan Ruins Park.
Yuanying Guan, which covers 1,465 square meters is a key site in the Xiyang Lou (Western Mansions) area of Yuanmingyuan. Its construction lasted from 1759 to 1783 during the reign of Emperor Qianlong in the Qing Dynasty (1644-1911).
Construction of Yuanmingyuan began in 1707 and continued for more than a century. Spectacularly beautiful at its peak, it is often referred to as "the garden of gardens", with its lush landscapes dotted with numerous temples, palaces and pavilions. Its 350-hectare area is about five times that of the Forbidden City in central Beijing.