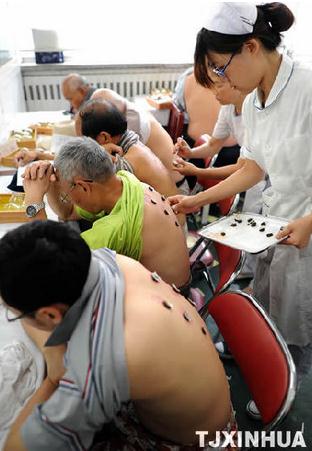 Patients are receiving the Sanfutie. (Photo/Xinhua)
This year's Sanfu Days, or dog days of summer, is supposedly ten days longer than the usual 30 days, according to a calculation of the Purple Hills Observatory of the Chinese Academy of Sciences Monday.
The calculation show that China has entered Toufu, the first phase of Sanfu on July 13, and the Sanfu Days won't fade out till August 22.
Sanfu in the Chinese Lunar Calendar, refers to the three 10-days periods that are predicted to be the hottest days of the year, which are called Toufu, Zhongfu and Mofu respectively. It is between mid-July to mid-August, and the beginning days of Sanfu varies year from year, in accordance with the ancient Chinese dates designated by Heavenly Stems and Earthly Branchesra.
One effective way to beat the heat is careful dieting. Health experts say that in Sanfu Days, it's better not to drink too much icy drinks nor eat much ice-creams, as the heat within one's body is usually felt on the surface of the body, not in the internal organs.
Zhang Zhongjing, an ancient Chinese doctor from the Eastern Han Dynasty, wrote in his Shanghanzabinglun, (Treatise on Cold Pathogenic and Miscellaneous Diseases), that to prevent and treat heatstroke, the right way is to drink some hot water and sweating, as it is good for the blood circulation.
Eat more vegetables, less meat and oily foods are also useful tips to make yourself comfortable in those hot summer Days.
In fact, Sanfu Days are believed to be a good time to cure some winter ills, such as coughs, asthma and arthritis. Receiving the Sanfutie, or Sanfu medicinal patch, is one of the popular ways to cure such ills.
Sanfutie is a bandage made of traditional Chinese herbal medicine. The treatment is based on traditional Chinese medicine(TCM) principle of yin and yang, which believes the balance of the elements in the body is vital for good health.
Sanfutie contains a paste of herbs that are "hot" in nature, and when applied to specific acupuncture points, usually on the back andneck, they replenish the yang elements.
These patches have been used in TCM since earliest recorded times, according to Huangdi Neijing (The Inner Canon of the YellowEmperor), more than 2,000 years ago, the time-tested textbook for TCM practitioners. Sanfu patch treatment became extremely popular inthe Qing Dynasty (1644-1911) and has enjoyed a revival in recent years as more patients turn to TCM treatment.