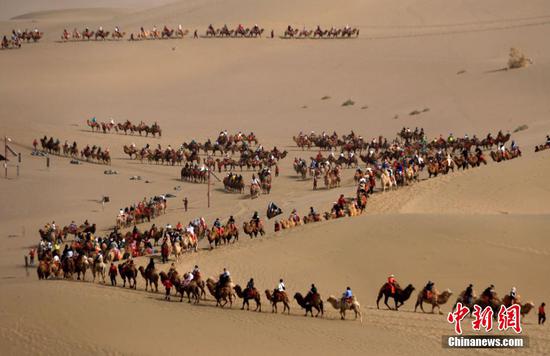 Tourists experience camel riding in Dunhuang, Gansu province. (Photo: China News Service/ Zhang Xiaoliang)
(ECNS)-- The camels for tourists to ride in the Crescent Spring scenic spot in Dunhuang, Northwest China's Gansu Province were reported to collectively "went on strike" due to "overwork" recently, according to netizens.
A staff member at the scenic area told ECNS on Thursday that they temporarily suspended the camel riding project out of consideration for the health of the camels and the safety of the tourists. The camels are now in good physical condition after rest, so the project has resumed on Wednesday afternoon, she said.
"During the waiting period, the camels can rest in the camel camp to replenish water and feed. Additionally, there are water troughs available for them to take a refreshing bath and cool down. This ensures that the camels can get sufficient rest now," the staff said.
According to reports, there has been a significant increase in visitor numbers during the summer vacation, but there are only a little over 1,000 camels available for the rides. As a result, some of the camels were physically tired after long-time work under extreme heat.