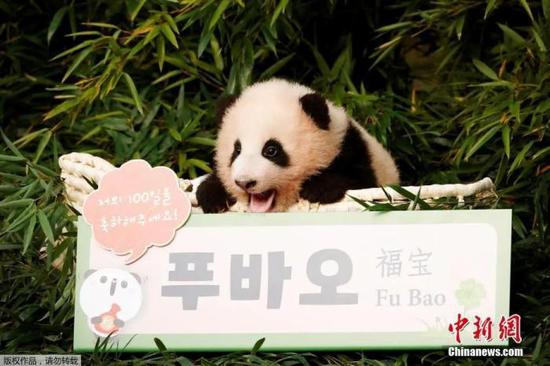 Giant panda Fu Bao celebrates her 3rd birthday in South Korea, July 20, 2023. (Photo/Agencies)
(ECNS) -- Giant panda Fu Bao in South Korea celebrated its 3rd birthday at Everland Resort in Yongin.
Fu Bao, the first giant panda born in South Korea through natural breeding, was born on July 20, 2020 in the Panda World at Everland Resort. Her mother Ai Bao and father Le Bao were sent to South Korea in March 2016 on a 15-year lease from China as part of a giant panda research cooperation program.
The family has been treated like treasure during their stay at the Everland Resort. One of the breeders Kang Cherwon, called Grandpa Kang by Chinese netizens, became popular on Chinese social media platforms due to his devotion to the animals.
Fu Bao is scheduled to return to China before 2024, said authorities. Its fans have bought the memorial album which records Fu Bao's growth. According to media reports, the sales volume of the album has increased sharply compared with 2021 when it was first published. The sales volume from May to June this year has increased by 749 percent year on year.