(ECNS) -- The Chinese Foreign Ministry on Friday blamed the United States for violating its obligations under the Convention on International Civil Aviation, also known as Chicago Convention, and multiple basic principles of international law, as it has slanderously described China's civilian unmanned airship as a "spy balloon" and engaged in the abuse of force.
Wang Wenbin, a spokesperson for the ministry, made the accusation at a press conference in response to a query about the U.S. ongoing "analysis and investigation into" the unmanned airship that was shot down by the U.S. military after its unexpected entry into the U.S. airspace.
"Without any evidence, the U.S. wrongly called the airship a 'spy balloon' and responded with abuse of force. That was a flagrant violation of the Chicago Convention and multiple basic principles of international law," Wang said. 
He pointed out China has explicitly asked the U.S. side through the consular protection channel to keep China informed of the progress, but the U.S. has so far given no response.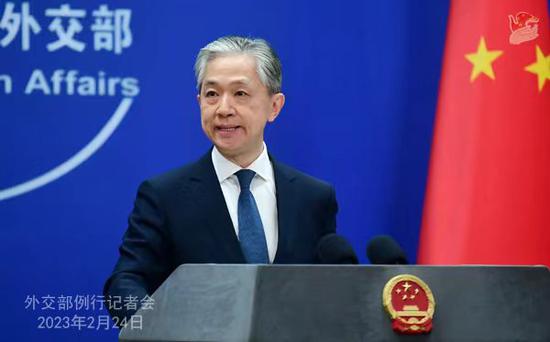 Chinese Foreign Ministry spokesperson Wang Wenbin speaks at a regular press conference in Beijing, Feb. 24, 2023. (Photo/fmprc.gov.cn)
"Like many others, China cannot but seriously question the independence, openness and transparency of the so-called investigation. What gives such an investigation credibility anyway?' he added.
The spokesperson said that the way the U.S. handles the incident has been entirely taken hostage by domestic politics and designed to serve the strategy to contain and take down China.
Noting that U.S. President Joe Biden ordered the Pentagon to take down the balloon as early as Feb 1, Wang questioned "whether the conclusions of the so-called investigation have already been pre-drawn as well."
The conclusions in the potential report "will most likely not go beyond the disinformation and unfounded allegations coming from the U.S. over and over for the past few weeks," he said.