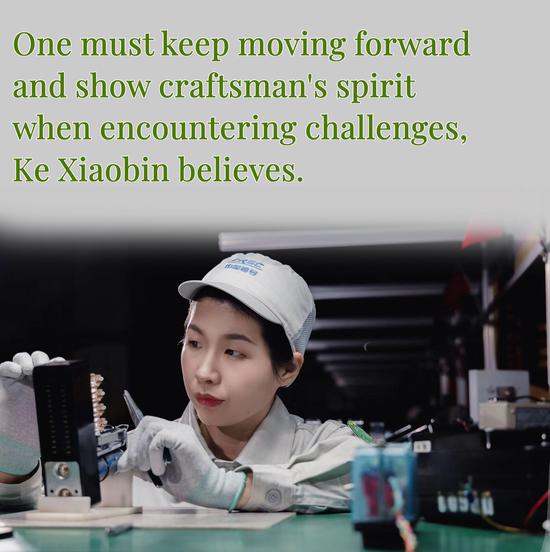 Ke Xiaobin (Photo provided to China News Service)
(ECNS) -- Ke Xiaobin is a team leader at a local branch of China's leading railway signal communication group.
Her work involves adjusting the electric relay contact on high-speed railway systems.
"There are three major technical systems in high-speed rail: the control systems, the bullet, and the railway, while the electric relay is regarded as the 'neurons' of the control system, with every switch of the circuit depending on it," she said.
The manual adjustment of electric relays is a tough task across the world, which cannot be outperformed by machines in terms of accuracy.
Deviation of adjustments should be controlled between 0.05 and 0.1 millimeters. A slight flaw will directly affect the electrical characteristics and performance indicators of high-speed rail.
"To ensure accuracy, I sometimes practice a small simple action dozens of times or even hundreds of times," she said. She also bought a hand-muscle developer to repeatedly boost the strength of her wrist.
Her arduous work has paid off.
After over half a year of practice, she was able to independently undertake relays adjustment tasks and grew into a master, winning a series of honors.
Her employer, the Shenyang branch of China Railway Signal and Communication (CRSC) Xi'an Rail Transit Industry Group, is China's largest railway signal relay production base, whose annual output reaches nearly 600,000 units, covering more than 70 percent of China's domestic market.
Two years ago, a new relay production was unveiled by the company. Although it features good safety, reliability, and long service life, certain parts have a high repair rate.
Ke led her group to carry out research and significantly reduce the repair rate after repeated testing and debugging.
"The success inspires me a lot. We are making adjustments, but it's possible to make huge contributions to design and production," she said.
She was elected to attend the upcoming 20th National Congress of the Communist Party of China (CPC) this year.
She thinks it's important to practice related skills to do a job well, and play a model role during mundane work.
One must keep moving forward and show a craftsman's spirit when encountering challenges, she believes.