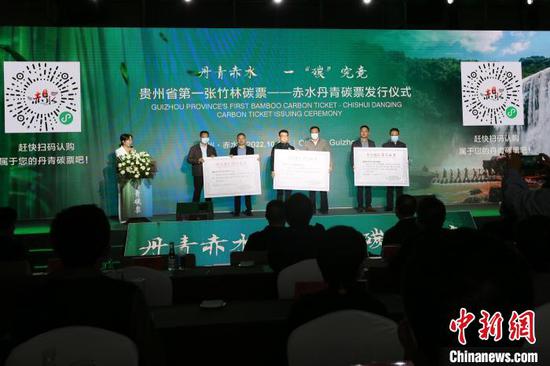 The issuing ceremony of the Chishui Danqing bamboo carbon ticket in Chishui, southwest China's Guizhou Province.(Photo provided to China News Service)
(ECNS) -- Southwest China's Guizhou on Tuesday issued the first bamboo carbon ticket to boost carbon sinks in Chishui City.
Named Chishui Danqing, the ticket is equivalent to an identity card for trading the carbon sequestration capacity of a forest.
A total of 588,000 yuan($82134.38)of bamboo carbon tickets were bought by local government bureaus, institutions and enterprises during the issuing ceremony.
Chishui Danqing bamboo carbon tickets were issued based on 100,000 mu (6666.7 hectares) of bamboo forest.
The carbon sink volume is 104 million tons, which is equal to a carbon emission allowance worth about 50 million yuan ($6.98 million), taking 2016 to 2020 into account.
With an excellent carbon sequestration capability, a bamboo forest is an important resource for sustainable development in China.
Chishui City is home to 2.24 million mu(0.15 million hectares) of forests, among which bamboo coverage is 82.51 percent.
The city has been estimated to have around 1.5 million mu (0.1 million hectares) of forests that are qualified for the carbon sink project since 2021, which can achieve carbon sequestration of 90 million tons in a 30-year period and will be worth about 4.5 billion yuan ($0.63 billion), according to the local forestry bureau.
In the future, these tickets will transform forest resources into real assets for the city for the benefit of residents.