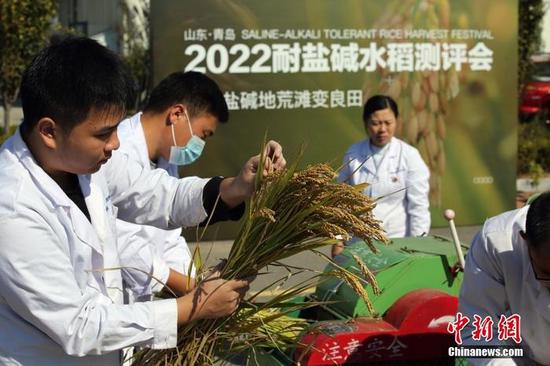 A saline-alkali tolerant rice harvest festival was held in Qingdao, east China's Shandong province, on Oct.11. (Photo/China News Service)
(ECNS) -- A saline-alkali tolerant rice harvest festival was held in Qingdao, a coastal city in east China's Shandong province, on Tuesday.
The production of sea rice "22ZS-44" recorded 691.8 kg per mu (1 mu equals 0.06 hectares) in the test field, an increase of 17.1 percent from 590.6 kg per mu last year, marking a breakthrough in salt-tolerant rice output at 4‰ salinity.
Experts from the Qingdao Sea-rice Research and Development Center also assessed the yield of sea rice "22ZS-39" in test fields, with output reaching 608.9 kg per mu.
The salt content of the test field soil is 0.34‰ and the pH value is 7.9. The tested fields are irrigated with salt water with a concentration of four percent.
The saline-alkali tolerant rice has grown well this year, said Yumeng, a breeding engineer at the Qingdao Sea Rice Research and Development Center.
Sea rice "22ZS-44," cultivated for four years, features lodging resistance, disease resistance and high yields.
The breeding team started to research and develop saline-alkali tolerant rice in 2012 under the guidance of the late agronomist Yuan Longping, China's hybrid rice pioneer.
Yuan pushed to plant sea rice across China in 2020. By the end of the year, 100,000 mu of sea rice had been planted, one million mu of salt-alkali land had been utilized and 10 million mu of saline-alkali land had been reserved.
By of the end of 2021 China had planted 600,000 mu (40,000 hectares) of sea rice, distributed in more than 10 provinces including Heilongjiang, Shandong, Jiangsu, the Xinjiang Autonomous Region, the Inner Mongolia Autonomous Region, and Zhejiang.