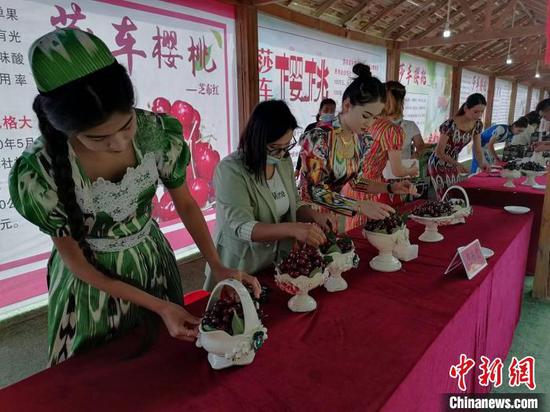 Xinjiang farmers live a better life thanks to local industries (Photo/China News Service)
(ECNS) -- Abdul Saimat Maxirap is the first farmer growing cherry at his village in Shache County, northwest China's Xinjiang Uyghur Autonomous Region. This year, with a good harvest of his cherry orchard, he has earned 160,000 yuan ($23,866.7)
Thanks to growing cherries, the farmer bought a car, built a new house, and lived a prosperous life.
In 2004, he and a few villagers, who had only seen cherries on TV, contacted cherry growers in Shaanxi and Shandong provinces under the support of their township government to purchase seedlings for trial planting.
The cherries are delicious but difficult to plant. It was not until 2011 that their trees started to bear fruit and deliver income.
Since then, their income has been getting better year by year, driving enthusiasm of other farmers in their town to plant cherries.
At present, the Mixia township is home to 800 hectares of cherry trees, and the average income per mu has reached about 30,000 yuan($4475) in 2021.
Cherry trees here have also driven rural tourism.
According to the Shache County Bureau of Culture and Tourism, the cherry orchards have welcomed an average of about 20,000 tourists a day since late May.
According to an official of the Mixia Township government, there are more than 1,000 people working in the tertiary industry such as catering and entertainment, and the monthly income of each employer ranges from 2,000 to 6,000 yuan.
Apart from the planting industry, the livestock industry also brings local residents a well-off life.
In the next three years, the village plans to make sure there are five cattle and 30 sheep per household. Young people can work in the village rather than go out to work, which could also bring them a happy life, Deng Junqiang, secretary of the village Party branch told China News Service.