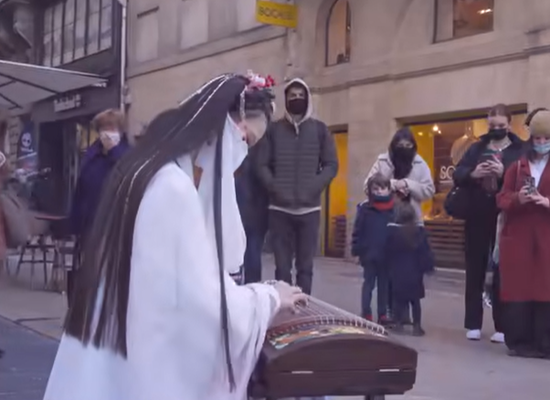 Chinese zither player Peng Jingxuan. (Photo/China News Service)
(ECNS) -- Young Chinese Peng Jingxuan has charmed netizens for playing Chinese zither, or Guzheng, in France.
Peng in traditional Chinese dress playing the musical instrument has been viewed for more than 2.4 million times on Chinese video streaming site Bilibili.
Peng was born after 1995 and began to learn to play Guzheng when she was seven. She went to University Bordeaux 3 of France for further education after graduating from the Wuhan Conservatory of Music, majoring in musicology.
She was inspired a lecture of a teacher from the Paris National Conservatory of Music and Dance, which gave a detailed introduction to French music and its musicology, plus she has learnt some French in college, then she decided to go to France.
"I'm very curious about whether there is any connection between foreign and Chinese music majors," said Peng.
Peng found that foreign young people are interested in Chinese culture and Chinese music as well during her studying in France. Her classmates were surprised by the charm and timbre of Guzheng when she introduced the musical instrument to them, said Peng.
However, Peng never sees Chinese instrument in the street of France where street performance culture prevails, which reminded her of the Guzheng.
"I want to keep it with me, and want foreigners to appreciate the charm of beautiful Chinese music, therefore, I began to play Guzheng in the street," said the girl.
In 2018, she brought Guzheng to France from central China's Hunan.
She won attention of local people since she played it in the street for the first time.
"A grandma invited me to her chateau to play for her daughter's wedding because she thought Guzheng is very romantic," said Peng.
Peng said local people like both popular western songs like See You Again and China-style music like Blue and White Porcelain and High Mountains and Flowing Water. Children will dance to her music, Peng added.
She also patiently taught foreigners to pronounce Guzheng in Chinese. She has been committed to exporting Chinese culture in the past few years. Foreigners' understanding of Chinese music is a little shallow, said Peng.
"It is wonderful to attract more and more foreigners to learn about our traditional music thanks to the efforts and skills of young Chinese," said Peng.
In her eyes, culture export must take root in traditional Chinese culture and keep innovating, so as to better convey its essence.