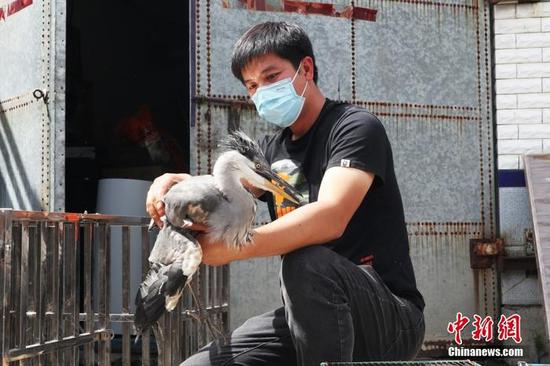 Wu Jianfeng is rescuing a heron at the wildlife protection station (Photo/ China News Service)
(ECNS) -- Wu Jianfeng, a Chinese bird lover, has rescued tens of thousands of animals in the past ten years.
Wu is the Secretary-General of the Wildlife Conservation Association in northeast China's Jilin city. He is so familiar with birds that he can identify the species after simply hearing a birdsong. Each species of bird sings differently, just like a human's fingerprint, he believes.
Wu masters outstanding skills with his passion for animals. He was obsessed with the animal world since childhood. He was interested in observing animals and has read a large number of related books. He also learned about bird species and habits by observing feces and hair during field research in college.
Wu has been committed to serving a wildlife protection station by the Songhua River since its establishment in 2018.
"I am fortunate to engage in the career, through which I have witnessed the great changes taking place in China's ecological and environmental protection," he said.
More and more young people are volunteering to save animals, which moved him a lot.
Some unrecorded species have begun to appear in the local forest, Wu surprisingly found in his field research.
Days ago, a vulture rescued by him flew away after being raised for three days. "I hope it can return to its world without hesitation, stay wild and never rely on humans," Wu said.
This is the sincerest wish of all volunteers, he added.