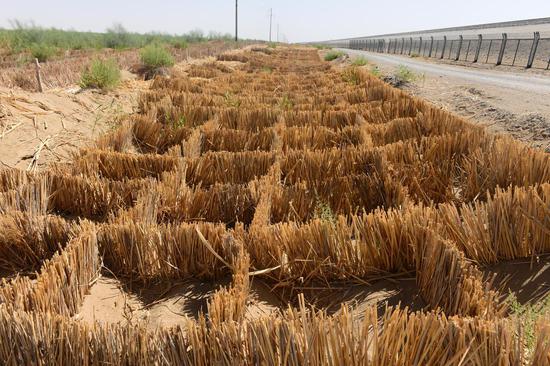 Photo shows grass and shrubbery planted along the rail line being used as barricades against sand, June 13, 2022. (Photo/chinadaily.com.cn)
(ECNS) -- Ecology restoration and sand control have been a priority during the construction of the Hotan-Ruoqiang Railway, which started operation on Thursday, completing the world's first desert railway loop line in northwest China's Xinjiang Uyghur Autonomous Region.
Sand control comes before railway construction, said an engineer on the railway.
In order to prevent sand from damaging the railway, workers have laid 590,000 square meters of the 0.3-meter straw grid, 439,000 square meters of the 0.8-meter middle sand barrier, and 21.8 kilometers of the 1.5-meter high sand barrier.
To improve the low survival rate of plants brought by the saline-alkali soil in the Gobi desert, the builders have changed the soil in tree pits. Through scientific cultivation, the survival rate of plants has been improved.
A total of 50 million square meters of straw grids, and 13 million shrubs and trees have been laid along the Hotan-Ruoqiang railway line to help reduce the amount of sand, according to data from the National Railway Group.
To protect the railway line from damage during a sandstorm, the designers elevated sections of the line on bridges set on pillars at intervals to allow the free passage of sand.
The 825-kilometer Hotan-Ruoqiang Railway stretches eastward from Hotan City to Ruoqiang County along the southern edge of the Taklamakan Desert, which, together with the existing Golmud-Korla railway and Southern Xinjiang railway, constitutes a 2,712-kilometer railway that loops around the Taklamakan Desert.
Situated in the Tarim Basin, the Taklamakan Desert is China's largest and the world's second-largest drifting desert, covering an area of 330,000 square kilometers. A total of 534 kilometers or 65 percent of the Hotan-Ruoqiang railway is situated in sandstorm-prone areas.