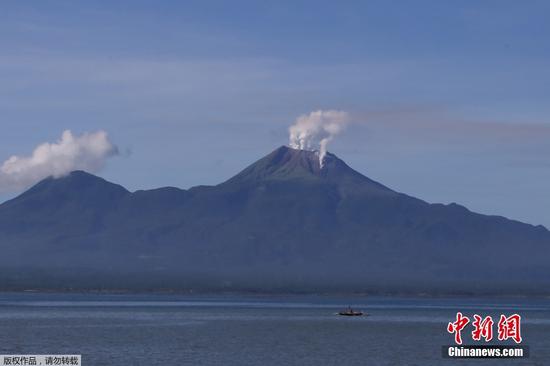 Mount Bulusan sudden erupts in Sorsogon province, Philippines, June 5, 2022. (Photo/Agencies)
(ECNS) -- A Chinese university has revealed that sulfate aerosols formed during the eruption of Siberian Traps Large Igneous Province (STLIP) caused the extinction of terrestrial life 250 million years ago.
At the end of the Permian period, about 250 million years ago, the largest extinction occurred on Earth, resulting in the disappearance of more than 90 percent of species in the ocean and over 70percent on land.
The research team from the University of Science and Technology of China, together with its U.S. counterparts, conducted relevant studies in Sydney Basin.
According to Li Menghan, lead author of the paper, the STLIP eruption was the main driving force behind marine environmental deterioration and extinction.
More and more proof shows that the terrestrial extinction at the end of the Permian period preceded the marine extinction of the same time, said Li.
The joint research team has proven that the terrestrial extinction occurred about 200,000 to 600,000 years earlier than the marine extinction in Sydney Basin after measurement and analysis of the over 1,000-meter-long borehole and related strata.
It turns out that the dispersal of the sulfate aerosols across the world greatly deteriorated global environments.
According to the research, the fallout and global dispersal of sulfate aerosols and environmental consequences like a sudden intermittent drop of Earth's surface temperature, continuous acid rain, and thinning of the ozone layer are vital factors that resulted in the terrestrial extinction at the end of the Permian period.
The research paper was published in Earth and Planetary Science Letters.