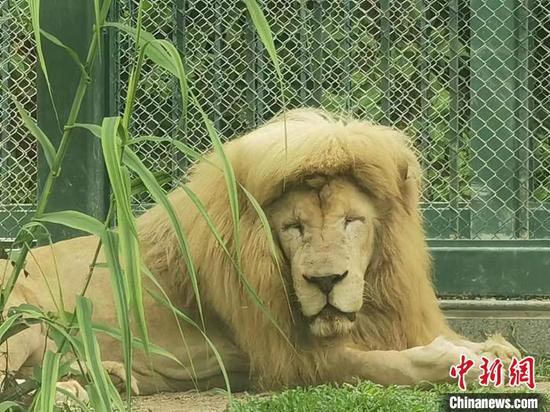 Photo shows the lion Ahang at Guangzhou Zoo. (Photo/China News Service)
(ECNS) -- A lion with straight bangs at Guangzhou Zoo in Guangdong Province has become popular overnight. Chinese netizens curious about its hairstyle were told by the zoo Tuesday that its bangs are totally natural.
The lion named Ahang was born in 2009 and came to Guangzhou Zoo in 2015 from Hangzhou, Zhejiang Province. The male albino lion, 13, is a species of Kalahari lion native to southern Africa.
"We used to joke about it, but we never thought it would turn famous someday," said a staff member of the zoo. Ahang has displayed various hairstyles since it came to the zoo in 2015, according to previously released photos.
Ahang has dense hair, which lends itself to diverse hairstyles, an uncommon trait among this species of lions, said Li Yaozhi, a keeper of the zoo.
Guangzhou Zoo has devoted itself to wildlife protection, hoping more people could join it to protect biodiversity.