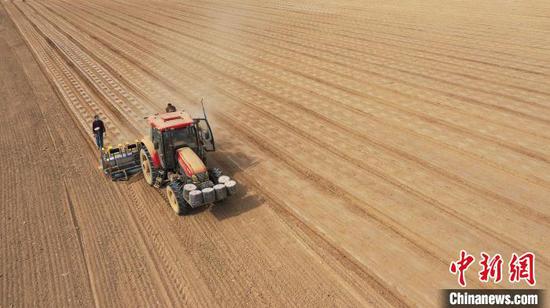 A machine works in the cotton field, Toksun County, Xinjiang Uyghur Autonomous Region, April 12, 2022. (Photo/China News Service)
(ECNS) -- Over 33.84 million mu (about 2.26 million hectares) of grain crops have been sowed in northwest China's Xinjiang Uyghur Autonomous Region in the first five months in 2022, according to local authorities Tuesday.
About 95 percent of this year's grain crops sowing target of 35.6 million mu have been achieved.
Xinjiang has sowed about 4.44 million mu spring wheat, 1.51 million mu of corn, and 135,000 mu of beans so far, among which spring wheat has already exceeded the target, local authorities told a press conference.
"Xinjiang is very confident in its food security. Per capita grain in Xinjiang reached 670 kilograms last year, much higher than the national average of 483 kilograms, making the region basically self-sufficient," said Wu Liang, a second-level patroller of the Agriculture and Rural Affairs Department of Xinjiang Uyghur Autonomous Region.
Xinjiang is far away from China's main grain production areas, which needs long-distance transportation, therefore, it must feed its people on its own, Wu added.
Xinjiang has implemented preferential measures to support local grain production, raising the subsidy standard for spring wheat to 219 yuan per mu (about $32.84 per mu), said Wu, adding that the local government has subsidized its farmers by 384 million yuan as required by the central government in order to encourage grain cultivation.
Next, the local government will strengthen pest control and agricultural machinery dispatch to ensure the summer harvest, said Wu.