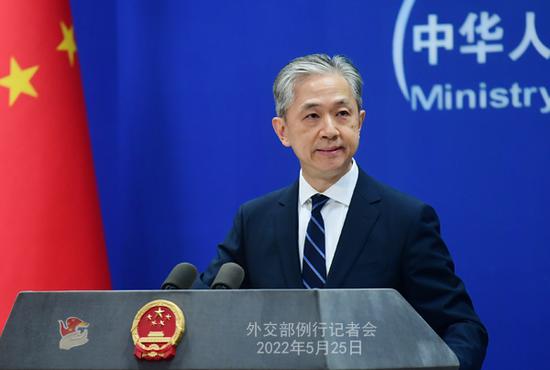 Chinese Foreign Ministry spokesperson Wang Wenbin speaks at a press conference, May 25, 2022. (Photo from the fmprc.gov.cn)
(ECNS) -- The U.S. proposed the Indo-Pacific Economic Framework (IPEF) only to start something new to serve its own interests, and people will see clearly that the IPEF is a design to disrupt regional cooperation and a tool to coerce regional countries, Chinese Foreign Ministry spokesperson Wang Wenbin said on Wednesday.
The IPEF is designed to advance U.S. geopolitical strategy, said Wang at a press conference.
"In the name of cooperation, the framework seeks to exclude certain countries, establish U.S.-led trade rules, restructure the system of industrial chains, and decouple regional countries with the Chinese economy," said the spokesperson, adding that in fact many countries in the region are worried about the huge cost of "decoupling" with China.
According to Wang, the IPEF does not take into consideration development levels and actual needs of regional countries, and there is no tariff exemption or market access arrangement under the Framework, only so-called high standards imposed by the U.S. on those countries.
"The IPEF won't go far if it fails to truly contribute to the common development of regional countries," said the spokesperson.
He pointed out that an initiative that truly contributes to regional development should follow the principles of openness, inclusiveness, mutual benefit and win-win outcomes, instead of being used to build walls, create division and stoke confrontation.
In addition, the spokesperson also stressed that China is ready to work with other countries in the region to practice true multilateralism, build an open regional economy and make the Asia-Pacific region a better place.