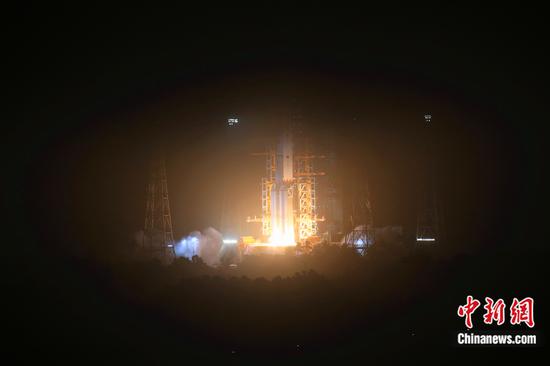 The Long March-7 Y5 rocket, carrying Tianzhou-4, blasts off from the Wenchang Spacecraft Launch Site in south China's Hainan Province, May 10, 2022. (Photo/China News Service)
(ECNS) -- China launched its cargo spacecraft Tianzhou-4 to deliver supplies to its space station at 1:56 a.m. (Beijing Time) on Tuesday from the Wenchang Spacecraft Launch Site in South China's Hainan province, according to the China Manned Space Agency (CMSA).
After about 10 minutes, Tianzhou-4 separated from the carrier rocket, the Long March-7 Y5, and entered its designated orbit. At 2:23 a.m. the solar panels of the cargo craft unfolded and began functioning.
Tianzhou-4 docked with the rear port of the space station's core module Tianhe at 8:54 a.m. (Beijing Time), the CMSA said. On April 20, Tianzhou-3 separated from the rear docking port of the Tianhe and docked with its front port.
The launch is the 22nd mission of China's manned space efforts, which will prepare China's space station for the arrival of Shenzhou-14, scheduled for June, with another three astronauts who will stay there for six months, announced the CMSA.
Tianzhou-4 uses rapid docking technology, which takes only 6.5 hours, far shorter than the 72 hours taken by Tianzhou-1, according to Li Zhihui, deputy commander-in-chief of the cargo spacecraft system, a branch of the China Academy of Space Technology.
In the future, our goal is to conduct rapid docking within two hours, which will be 4.5 hours less than the current 6.5 hours, Li said.
Tianzhou-4 carries five categories of supplies, including six months of living supplies for the Shenzhou-14 mission's three astronauts, spare parts for space station maintenance, space research equipment, a low-temperature cabinet for space science and medical experiments, and experimental goods collected from society and universities.