Special: 2022 Winter Olympics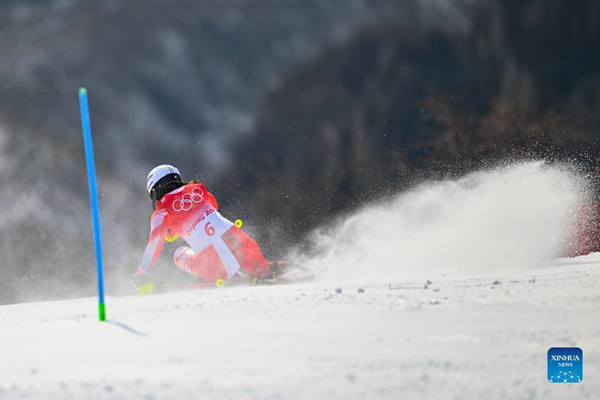 An athlete competes during Alpine Skiing women's slalom of the Beijing 2022 Winter Olympics at the National Alpine Skiing Centre in Yanqing District, Beijing, Feb. 9, 2022. (Photo/ Xinhua)
(ECNS) -- International experts have defended the artificial snow of the 2022 Winter Olympic Game, saying it is widely used in the world and that race tracks made from it must follow the same technology and safety standards as their natural equivalents.
A snow-making machine turns water into snow by imitating the snowfall process, according to Zhang Haiyang, an associate professor from the Beijing Institute of Technology.
In fact, artificial snow, which is steadier, will better ensure fairness of competitions, said the professor.
According to an authoritative manual for training race track experts released by U.S. Ski and Snowboard Association, all the work including making snow aims to ensure fairness regardless of skier starting order, with track hardness a vital index.
Artificial snowflakes comprise compact crystals shaped spherically or in cones with low porosity and high density (the density is higher than 0.5 grams per cubic centimeter), and compared with natural snow, has higher mechanical parameters like hardness and strength, said Zhang.
Artificial snow won't cause water resource waste.
"Making snow is not a single process of consuming water, which will return to nature. Reasonable design of the small watershed near the competition area will help most melted snow return to reservoirs," said Zhang.
At 2022 Winter Olympics, there is a perfect water circulation mechanism and all water is in a closed loop so that artificial snow will be better recycled after melting, according to Zhang.
Yan Jiarong, a spokesperson for the Beijing Organizing Committee for the 2022 Olympic and Paralympic Winter Games (BOCOG), said the ski stadium will give priority to using natural precipitation and surface runoff to make snow.
For example, there are 11 open-air reservoirs, snow melt water collection pools, and artificial lakes, with a total of water storage capacity of 530,000 cubic meters at Yunding and Guyangshu ski resorts in Zhngjiakou, Hebei Province.
The two venue clusters adopt efficient, intelligent and water-saving snow-making systems and equipment, which can dynamically maintain the best snow-making efficiency according to the changes in the external environment. By using such technologies, the water saving rate has reached about 20 percent, said Yan.