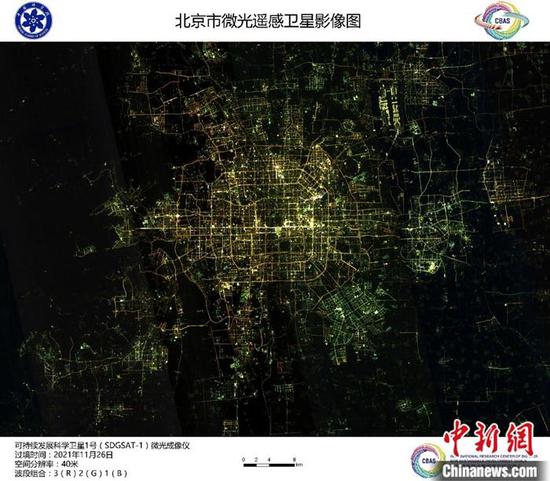 An image of Beijing City taken by the satellite SDGSAT-1. (Photo provided to China News Service by the Chinese Academy of Sciences (CAS)
(ECNS) -- China on Monday released the first batch of 11 satellite images of cities and regions taken by the country's satellite SDGSAT-1.
The satellite has used three different imagers to take these remote sensing pictures of the Yangtze River Delta in the eastern part of China, Lake Namtso in China's Tibet Autonomous Region, Beijing, Shanghai, Paris, etc.
Developed by the Chinese Academy of Sciences (CAS), this satellite is the first satellite specially designed to help to meet UN Sustainable Development Goals (SDGs), and also the first one launched on the list of the International Research Center of Big Data for Sustainable Development Goals (CBAS).
It was sent to space about one and a half months ago from Taiyuan Satellite Launch Center, north China's Shanxi Province.
SDGSAT-1 used thermal infrared, glimmer and multispectral imagers to accurately depict the mutual interaction process between human activities and natural environment so as to meet the needs of monitoring and evaluating SDGs.
The thermal infrared imager can capture image data in a width of some 300 kilometers.
The multispectral imager has seven bands and its spatial resolution is 10 meters. It will help monitor water quality, coastal ecosystem, glacier changes, etc.
At present, SDGSAT-1 is under in-orbit test. It will provide continuous and stable global data support for the monitoring, evaluation and scientific research of SDGs after running normally in orbit.