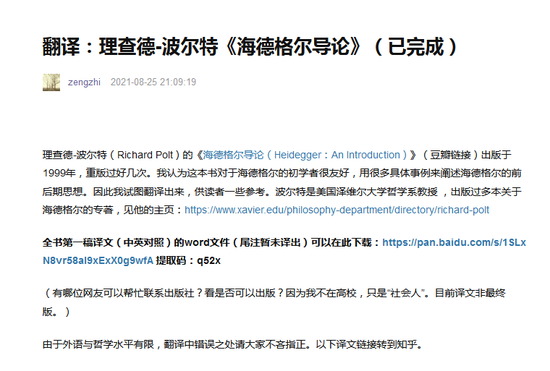 Screenshot of Chen Zhi's post on Douban, a Chinese social platform for sharing and rating books, films, music, games, etc.
(ECNS) -- A migrant worker from a village in Ganzhou City, China's Jiangxi Province, attracted public attention due to his initial translation of the philosophy book Heidegger: An Introduction authored by Richard F. H. Polt, a U.S. professor of philosophy.
Born in 1990, Chen Zhi once indulged in philosophy before dropping out of college. "I've nearly looked through all philosophy books in the library when I was in college, including Sein und Zeit by German philosopher Martin Heidegger, but I couldn't even understand its catalogue then," said Chen.
His introverted personality, coupled with a stammer, made him unable to do certain jobs for a long time. He migrated to many places around China like Guangdong, Zhejiang, Jiangsu and Beijing and worked for apparel and electronics factories, warehouses, etc. Such monotonous and onerous work stopped him from communicating with others, so he put more effort into reading philosophy works.
Chen started the translation of Heidegger: An Introduction out of his desire for a deeper understanding of the book.
He planned to finish the translation in at least half a year, and had to rely on translation tools and other Heidegger books due to his limited English proficiency. However, it only took him four months, ahead of schedule in his eyes.
He sought to publish his work online, gripping the public due to the contrast between his identity as a migrant worker and translation work.
"I have come to understand the toil of migrant workers during my 10 odd years of experience. I look forward to people changing their stereotype of our group. Also, we must have goals and keep improving our skills and academic qualifications to live better," said Chen.
While some publishers have contracted Chen to release his work, he has started translating another book. The translator hopes to complete college again one day.