(ECNS) -- The Beijing Stock Exchange, launched Monday, witnessed a turnover of 9.57 billion yuan ($1.5 billion) on its first trading day, with 10 stocks surging as much as two-fold.
The new bourse, along with the Shanghai and Shenzhen stock exchanges, will be, "a major base for innovative small- and medium-sized enterprises (SMEs)," according to Xu Ming, president of the Beijing Stock Exchange.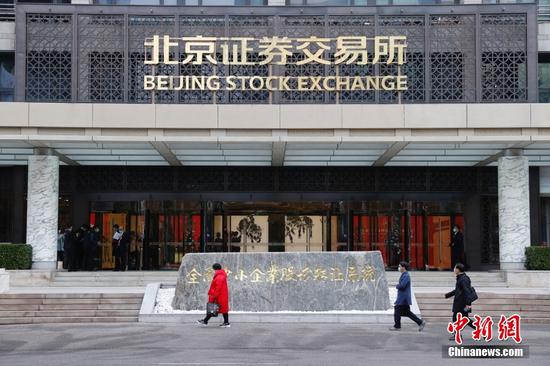 The Beijing Stock Exchange. (Photo: China News Service/Han Haidan)
Yi Huiman, chairman of China Securities Regulatory Commission, hailed it as "another landmark in China's capital market reform and development."
"It is also of great significance in building new development patterns and promoting high-quality growth," he added at the launch ceremony.
"The Beijing Stock Exchange is important for cultivating 'little giants', or startups with high growth potential and advanced technologies," said Chris Liu, a senior portfolio manager at Invesco. In addition, it would further expand direct financing channels for innovative SMEs.
On the first trading day, stocks on the National Equities Exchange and Quotations (NEEQ), or the "new third board," were also boosted, with 660 newly traded stocks on the innovation tier rising by 1.87 percent and 528 on the base tier rising by 1.17 percent on average.
Insiders believe Beijing Stock Exchange would nurture an environment of long-term and rational investment by matching the risk characteristics of innovative SMEs.