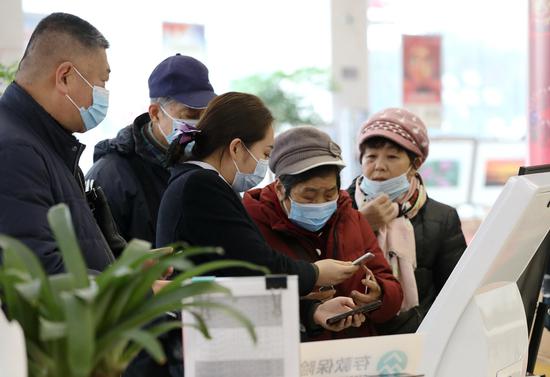 A bank employee (center) addresses customers' queries on pension account in Yangzhou, Jiangsu province, in January. (Photo: China Daily/Zhao Hongwei)
China will hopefully issue policies on the final pillar of its three-pillar pension system within this year, while banking and insurance institutions are vigorously exploring the development of the third pillar, experts said.
The government has attached greater attention to the third pillar, which consists of personal savings-funded endowment insurance and commercial endowment insurance. It is now considered an important pillar of support for social security, said Jin Weigang, vice-chairman of the China Association of Social Security, at a wealth management for retirement planning seminar held by Everbright Wealth Management Co earlier this month in Qingdao, Shandong province.
In May 2018, China launched a pilot program of tax-deferred commercial endowment insurance in Shanghai, Fujian province and the Suzhou Industrial Park in Jiangsu province. By the end of last year, the program's policyholders numbered over 48,000, and the insured amount was only around 400 million yuan ($62.6 million). Its failure to attract a large number of buyers shows that relevant tax policies are inadequate, said Jin, who is also chairman of the academic committee of the China Ageing Finance Forum.
"The pilot program does not meet market expectations due to lack of policy support. China needs to improve tax incentives to promote the development of the third pillar of pension insurance while its economy is in the process of recovery from COVID-19 and can still maintain fairly good growth momentum," he said.
China should draw on international experience and form an open third-pillar pension market, allowing various financial institutions which comply with the government's certification mechanism to participate in the market, he said.
Dou Yuming, chairman of Zhong Ou Asset Management Co, also highlighted the opening of the market in terms of financial institutions and products.
"The market should be open to various types of investment managers, such as banks' wealth management subsidiaries and mutual fund companies, which are qualified to offer financial products for retirement planning," Dou said.
The products should be easily accessible through various channels including bank branches and mobile applications, he said.
Financial services for retirement planning have entered into a period of rapid growth. By the end of the first half, financial assets of Chinese residents reached 60 trillion yuan, part of which can be invested in the third pillar pension market, said Zhang Xuyang, chairman of Everbright Wealth Management Co, a wholly owned subsidiary of China Everbright Bank.
"Financial institutions can play a bigger role in driving the development of the third pillar of China's three-pillar pension system through the design of financial products while the country is carrying out a pilot program of wealth management products for retirement planning," Zhang said.
"If 20 to 30 trillion yuan of Chinese residents' financial assets are invested in the third pillar, and if 5 to 6 trillion yuan among the total is to be invested in equity assets, the money will become a quality source of funding for China's capital markets, thus promoting its economic transition," he said.
A survey conducted this year by the China Ageing Finance Forum showed that the majority of Chinese investors are conservative in terms of retirement planning.
Among 12,043 valid questionnaires received across the nation, nearly 50 percent of survey participants selected ensuring safety of principal as the top priority of investment for retirement planning. Compared with principal safety, they care less about returns on investment. About 31 percent of survey participants said their long-term goal of investment for retirement planning is to have returns keep pace with inflation.