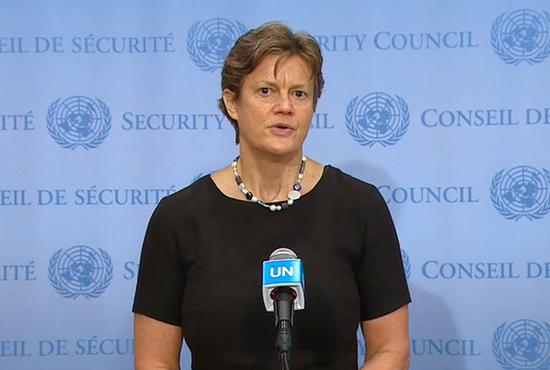 Barbara Woodward, British ambassador to the United Nations. (Photo/UN Audiovisual Library)
By Wang Fan
(ECNS) -- British ambassador to the United Nations (UN) Barbara Woodward has said that the United Kingdom (UK), as a fellow permanent member of the UN Security Council, will continue to work closely with China on matters of international peace and security.
Woodward made the remarks in a recent email interview with China News Service. She said that China is a leading member of the international community and has an important position at the UN, and that China plays a key role in discussions on climate, COVID-19, antimicrobial resistance (AMR), and sustainable development.
This year marks the 50th anniversary of the restoration of the lawful seat of the People's Republic of China in the UN. Woodward mentioned that the UK voted in favor of Resolution 2758 of the UN General Assembly 50 years ago.
Over the past 50 years, the growth of China's economy has changed China's position at the UN, she said. "Its development success story - the lifting of over 700 million people out of poverty and reaching of the Millennium Development Goals – has changed China's relationships at the UN, in particular with the G77 group of developing states."
"China is now one of the world's largest economies, which gives it more influence in the multilateral system and also brings more responsibility," she continued. "This is not simply a question of increased budget contributions but also living up to global expectations that, as a major power, China adheres to its international commitments and uphold the principles enshrined in the UN Charter on security, development and human rights."
"As the UN has passed its 75th anniversary, we should find common ground on the future of multilateralism so that, as P5 members (five permanent members of the UN Security Council), we can continue to strive to realize the principles of the UN Charter for the benefit of all people around the world," said Woodward.
"The UK will continue to cooperate closely with China on the most urgent global challenges, above all climate as we look ahead to the COP26 conference in Glasgow in November and the second half of the biodiversity COP15 in Kunming next year," she said.
"As I have said, we will continue to work daily in the Security Council with China as a fellow P5 member on the maintenance of international peace and security," she stressed. "This cooperation is important for the UK and China and for the international community as a whole."