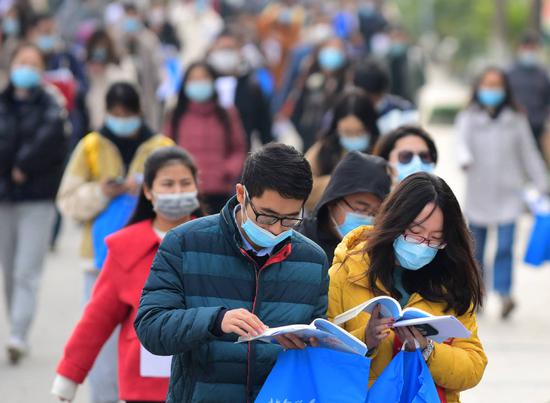 A photo of applicants studying for the 2021 national civil servant exam in front of the Wuxi Higher Vocational School of Tourism & Commerce in Jiangsu province on Nov 29, 2020. (Photo/Xinhua)
Record number of registrants sign up for annual exam, which will start on Nov 28
The number of people registering to sit for the 2022 national civil servant exam reached a record of more than 2 million, according to a private institution that offers training for the exam.
Registration for next year's test concluded at 6 pm on Sunday, with about 2.02 million signing up, 514,000 more than last year, said Offcn Education and Technology Co.
By 5:30 pm on Sunday, 1.84 million people who registered had passed the preliminary review and qualified to take the exam, 415,000 more than last year, the institution said.
This means only one out of 59 people will be finally admitted as a civil servant, creating fiercer competition than last year, when one in about 54.5 people was accepted, it added.
Wang Jian, chief tutor at Offcn, said the popularity of the test surged because more college graduates wanted to join the team of civil servants and signed up for the exam. He said some colleges in Shanghai and Shaanxi province have invited him to give lectures to students on how to prepare for it.
There are two parts to the annual civil servant exam. This year, the first part, which is a written exam, will be held on Nov 28. The next part will consist of interviews for those who pass the written portion. The interviews will be held sometime next year, after which 31,242 people will be recruited to fill posts nationwide.
Among all the posts that are being offered this year, about 84 percent set no limitations on the work experience of the applicants, and 67 percent are being offered to students who will be graduating in 2022.
"This is great news for those who will be graduating next year, considering the adverse impacts the COVID-19 pandemic has had on college graduates' job prospects," Wang said.
There's good news for earlier graduates too. Wang said there are also some posts open to students who graduated last year and this year.
"To guide young people to work in places where talent is needed, such as grassroots level government organs with backward, difficult working conditions, the country has tried to offer attractive packages," he said.
The most popular post of the year is a position at the Ngari Prefecture Postal Administration in the Tibet autonomous region, which attracted the registration of more than 20,000 people.
Zheng Wenzhao-an expert with the Research Institute of Huatu Hongyang Corp, a Beijing-based tutoring institution on exams for adults, including the civil servant exam-said such a phenomenon occurred because a post like this has set no limitations on the educational backgrounds or work experience of the applicants.
In contrast, some posts with strict limitations or those located in distant and backward western regions of the country received a cold shoulder from applicants. Data has showed that 127 posts, or 0.76 percent of all postings, had no applicants this time.
As a way for government organs to select outstanding employees, the annual exam attracted over 1 million applications in 2009 for the first time.
Throughout the decade following, the number of registrants remained above that figure each year.
In recent years, the number of people who passed the preliminary review has continued to rise, from 1.38 million for the 2019 exam to 1.44 million last year and 1.58 million this year, official data showed.