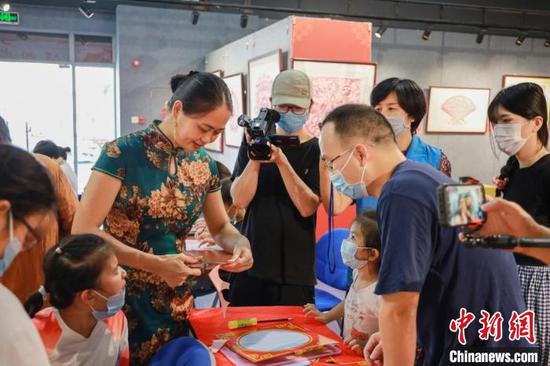 Papercut artist teaches citizens papercut skills. (Photo/China News Service)
(ECNS) -- A Lingnan papercut experience class, part of the 2021 Lingnan papercut art exhibition, was held at Guangdong Cultural Center to welcome the upcoming Mid-Autumn Festival, which falls on Sept. 21 this year.
He Danfeng, papercut artist and the representative inheritor of the project in Zengcheng District, Guangzhou, came here to teach citizens papercut skills and showed them how to cut animals like frogs and crabs on the spot.
It is also the first time some parents who took their children here to participate in such an activity. Both parents and children have gained a lot. "My child is happy and I also mastered the papercut skill. We can do papercuts for festivals," said a parent.
With a history of more than 1500 years, papercuts originated from ancient China's Northern and Southern dynasties (420-589) and prospered during the Ming and Qing dynasties (1368-1911).
Guangdong Provincial Cultural Center hopes citizens could appreciate the charm of colorful Lingnan culture and art through this activity, and stimulate their curiosity and enthusiasm for studying Lingnan traditional culture. The event will end on Sept. 27.