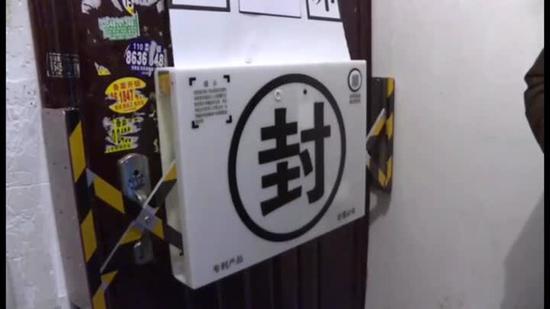 An intelligent electronic seal is installed on a property in Changsha, Hunan Province. (Photo/Video screenshot on CNSTV)
(ECNS) -- A court in Changsha, Central China's Hunan Province, on Saturday installed an intelligent electronic seal on a property in arrears.
The owner, a woman surnamed Cao, signed a loan contract with the Hunan branch of China Construction Bank, but since September 2016, Cao has failed to pay her debt, with the bank applying to the court for enforcement.
A month ago, the court posted a notice in front of the building, but Cao pleaded ignorance. Law enforcement officers subsequently removed her from the property and installed the electronic seal.
The first of its kind in China, the seal can monitor and collect evidence on a property and the person subjected to enforcement 24 hours a day. The device will trigger an alarm and take photos automatically if someone tries to break it.
If Cao fails to fulfill her obligations, the court will auction the house according to law.
The eye-catching electronic seal provides anyone information on procedures via QR code.
All expenses incurred will be paid by the enforced person.