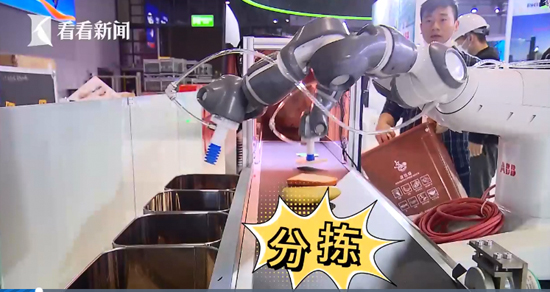 A waste-sorting robot will make its debut at the second China International Import Expo (CIIE) in Shanghai.(Photo/Screenshot on Knews Video)
Special: The Second China International Import Expo
(ECNS) -- A waste-sorting robot will make its debut at the second China International Import Expo (CIIE) that is to open on Tuesday in Shanghai.
Developed by ABB, an international manufacturer of industrial robots and systems, the machine combines the dual-arm YuMi collaborative and an IRB 1200 material handling robot.
YuMi can sort different types of waste into four categories of bins including hazardous and recyclable. The trash is then moved down the conveyor belt where the IRB 1200 robot collects the different types of rubbish for recycling.
Cui Hengfeng, an engineer with ABB, said the system uses artificial intelligence and machine learning because there could be additional types of waste generated in future. The system can be upgraded to better identify and sort waste in a process that is completely digital and automatic.
It can also be applied in other fields such as quality control, managing products on the assembly line and material sorting.
The expo scheduled for Nov. 5 to 10 will cover an exhibition area of 360,000 square meters, an increase of 60,000 square meters over last year.
More than 40 Chinese cities will be integrated into the waste sorting network by end 2020, according to a previous report.