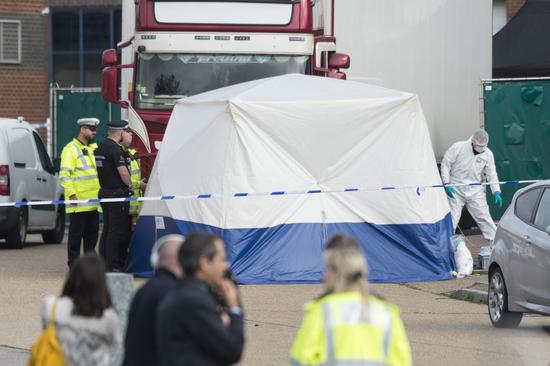 Police officers work at the scene where 39 bodies were found in a shipping container at Waterglade Industrial Park in Essex, Britain, on Oct. 23, 2019. (Photo by Ray Tang/Xinhua)
Vietnamese Deputy Foreign Minister Nguyen Quoc Dung made a phone call to Minister for Asia and the Pacific at the British Foreign and Commonwealth Office Heather Wheeler on Tuesday to discuss lorry deaths in the British county of Essex.
Dung thanked the office and relevant British agencies for their active support and sharing of information with Vietnam, appreciating their assistance in accelerating the identification of the victims in the tragedy, in which 39 people were found dead in a container truck in Essex on Oct. 23, the Vietnamese Foreign Ministry said in a statement.
Wheeler affirmed that the British side is making every effort to identify nationalities and names of the victims, and is ready to work closely with relevant sides to quickly complete the identification process, the statement said.
Earlier, British authorities sent Vietnam records of four victims among the 39 dead for connecting the information and verifying the victims' identification.
Vietnam has compiled information provided by 14 local families seeking for missing relatives in Britain and gave them to British authorities for verification.