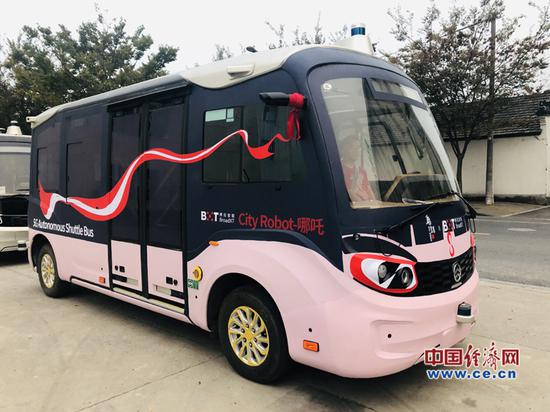 A 5G autonomous shuttle bus will offer service at the 6th World Internet Conference. (Photo/ce.cn)
Special: 6th World Internet Conference
(ECNS) -- Wuzhen, a historic water town in Zhejiang Province, has offered full 5G network services ahead of the 6th World Internet Conference, including an autonomous shuttle bus enabled by the latest generation of mobile technology.
The shuttle will be used along a 4-kilometer route at the service of participants to the conference that will run from October 20 to 22.
Named after Ne Zha, a character in a Chinese fairytale, the vehicle uses sensors and artificial intelligence that help detect road obstacles and respond within just 100 milliseconds. It's also assisted by a human driver in order to meet legal requirements.
The minibus can travel 30 to 40 kilometers an hour and maintain a distance of 5 to 6 meters from cars in front, said Shang Wenzhu, president of Hangzhou-based developer BroadXT.
The town plans to expand the pilot autonomous shuttle bus program to later provide services covering 110 square kilometers.