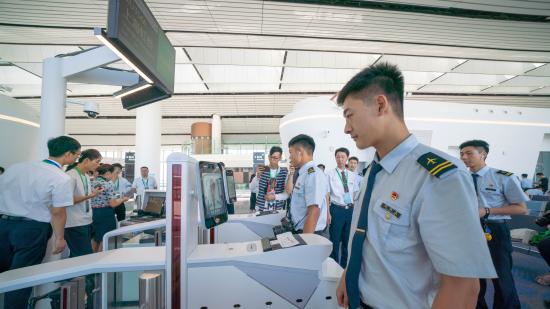 A China Eastern Airlines staff member tests facial scanning equippment at the Daxing International Airport. (Photo provided by China Eastern Airlines)
Special: 70th birthday of PRChina
(ECNS) -- China Eastern Airlines has cooperated with Huawei and China Unicom to launch a smart travel service armed with 5G and artificial technology to improve the travel experience.
Passengers will no longer need to bring an ID document or ticket QR code to fly with the airline as the whole process from ticket purchase to boarding can now be completed by facial scanning. For those flying with a child, the facial recognition-based system also works well as it automatically updates information for the adult passenger.
China Eastern Airlines will become a major airline serving Beijing Daxing International Airport, which will open on Sept. 30.
Ground service staff at China Eastern Airlines can use mobile devices to quickly identify a passenger and provide information accurately and quickly.
Cooperation between the airline and Huawei also means passengers can check their luggage status at any time through an airline app.