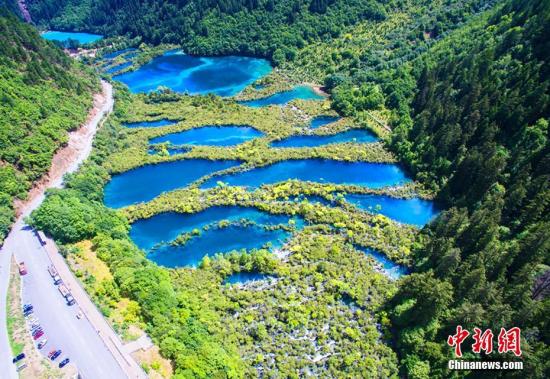 Quake-hit Jiuzhaigou National Park in 2018. (File photo/ China News Service)
(ECNS) -- No decisions have been made regarding the reopening of quake-hit Jiuzhaigou National Park, according to its administration, despite some online tourism agencies claiming to have touted services to the UNESCO World Heritage Site.
The scenic area was closed due to damage caused by a magnitude-7.0 earthquake that hit on Aug. 8, 2017. Previously, local government sources had said restoration efforts were going very well and the park might reopen within the year.
Videos and photographs released online show popular sites within the park looking back-to-normal, including Wuhua Lake, or five-flower lake, which was seen to be as clean and blue as it was before the quake, the Beijing Youth News reported.
On travel service website Ctrip.com, customers can book a group tour including a stop in the park from Sept. 26, while on Ly.com, tours are available from Sept. 29. A six to eight-day tour to Jiuzhaigou costs approximately 2,000 yuan ($281) to 4,000 yuan per visitor.
An online travel store on Taobao.com, the largest e-commerce site in China, said most of the scenic spots in the park will reopen during the National Day holiday from Oct. 1 to 7, possibly with a daily limit of 5,000 visitors a day, said the report.
However, the park administration tweeted on Sina Weibo on Wednesday that the park was still closed with work ongoing, so tourists were advised to wait for an official opening date.
Two airlines have restarted flights to Jiuzhai Huanglong Airport, which serves two major scenic places of interest in the area, namely Huanglong Scenic and Historic Interest Area and Jiuzhaigou.