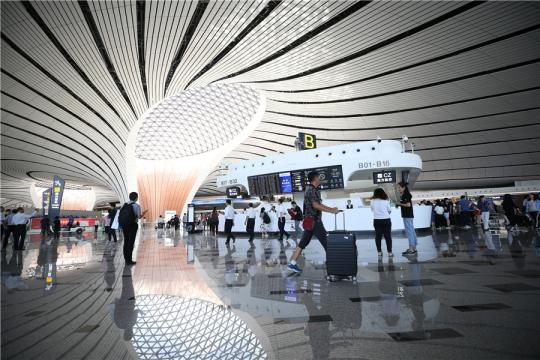 Airport employees hold a simulation drill in the departure lounge of the Beijing Daxing International Airport. (Photo by Chen Zebing / China Daily)
Special: 70th birthday of PRChina
(ECNS) -- Passengers will experience a range of convenient services at the new Beijing Daxing International Airport set to open on Sept. 30, Beijing News reported on Wednesday.
More than 400 self-service check-in kiosks will ensure passengers queue for no more than 10 minutes.
The unique design of the airport terminal means passengers can arrive at any boarding gate within eight minutes, a distance of 600 meters.
The airport also uses "effective and smart" safety check channels that can process 260 passengers an hour, 40 percent faster than via traditional means. Each passenger can complete the safety check in five minutes.
Facial recognition technology has also been widely applied in boarding procedures as a replacement for paper boarding passes.
Passengers who arrive at the airport can also find streamlined services in a central hub. A passenger will normally be able to complete all customs clearance procedures in 30 minutes, said the report.
Located 46 km south of downtown Beijing, the airport was designed to take pressure off the overcrowded Beijing Capital International Airport located in a northeastern suburb of the city. It is projected to handle 72 million passengers by 2025 and 100 million by 2040.