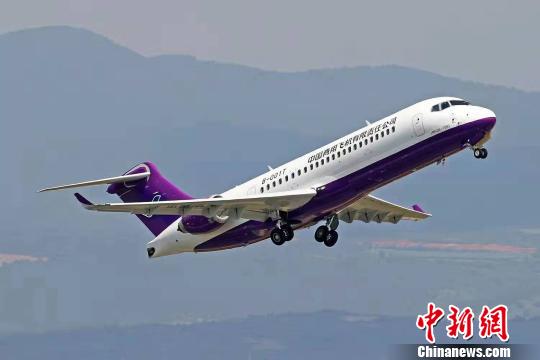 A China-developed ARJ21 jetliner makes a test flight in Yunnan Province, Aug. 19, 2019. (Photo/China News Service)
Special: 70th birthday of PRChina
(ECNS) -- A domestically developed ARJ21 jetliner completed a demonstration flight linking three areas in southwest China's Yunnan Province on Monday.
The ARJ21, developed by the state-owned Commercial Aircraft Corporation of China (COMAC), is the country's first regional jetliner, containing 78 to 90 seats and capable of covering 3,700 kilometers.
The plane flew from Kunming, capital city of Yunnan, to Lijiang and Xishuangbanna, both top tourism destinations, and then returned to Kunming.
COMAC plans to use the ARJ21 to establish an aviation network in China's southwestern region, which boasts rich tourism resources. The three days of flights, predominantly aimed at showcasing the aircraft's ability to pass over the Yunnan-Guizhou Plateau, involved eight airports.
COMAC said air transportation can improve accessibility within the landlocked region and greatly shorten travel times for tourists.
The ARJ21 is designed to perform well at high altitude and is resilient against crosswinds, making it suitable for take-off and landing conditions in southwestern China.
As the first purchaser of the ARJ21, Chengdu Airlines, based in Sichuan Province, has used the planes to connect more than 20 domestic cities, transporting more than 450,000 passengers.
China's Genghis Khan Airlines also launched its first flight with the aircraft in July amid efforts to promote its use in middle-western and northern China.