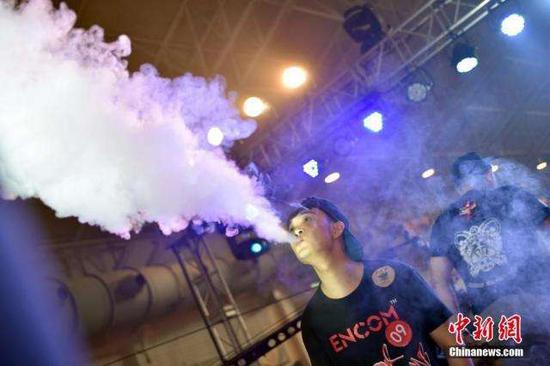 A man blows smoke with an electronic cigarette. (File photo/China News Service)
(ECNS) - Southern Chinese city Shenzhen has tightened measures to control smoking, banning e-cigarettes in non-smoking spaces and extending smoke-free areas.
An amendment to the city's tobacco control regulation passed by the local law-making body on Wednesday added the use of "electronic cigarettes, other tobacco products that can be ignited, or heated but not burnt" to its definition of smoking.
The new rule increased non-smoking sites from seven types to nine, including areas within five meters of the entrance to public transportation stations as well as outdoor waiting areas for public transport vehicles. It's forbidden to smoke near the entrance to schools, parks, hospitals and scenic spots.
To further protect minors, tobacco products cannot be sold within 50 meters of the gates to middle and elementary schools or activity centers.
Some studies have shown that e-cigarettes also contain harmful compounds such as nicotine, a hazard to human health. The World Health Organization has requested that electronic cigarettes be banned or regulated.