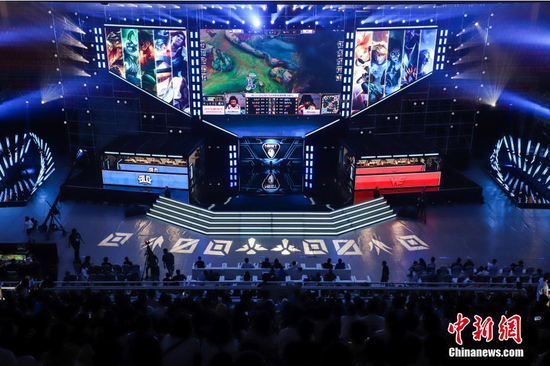 The 2019 National e-sports competition (League of Legends) was held in Guiyang, Guizhou Province, May 24, 2019. (File photo/China News Service)
(ECNS) -- Shanghai has introduced a 3-year action plan to dramatically boost the metropolis' cultural industry to global level, including a goal to become the "world capital of e-sports."
Shanghai will optimize its business environment, expand cultural industry chains, improve infrastructure and let the market play a decisive role in building a full-fledged e-sports industry.
The city plans to support leading companies and teams in the rapidly expanding industry and become the host city for professional, influential events at national and international level.
While cultivating local e-sports brands, teams and enterprises, Shanghai will also support cooperation with overseas companies and teams, especially from countries along the Belt and Road Initiative, according to the action plan.
In one initiative, Shanghai plans to align with the national development strategy and build an e-sports industry alliance first in the Yangtze River Delta region.
It also plans to organize an e-sports week, a global e-sports conference and high-end forums to make the city a new hub for electronic sports, the umbrella term for organised, competitive computer gaming.