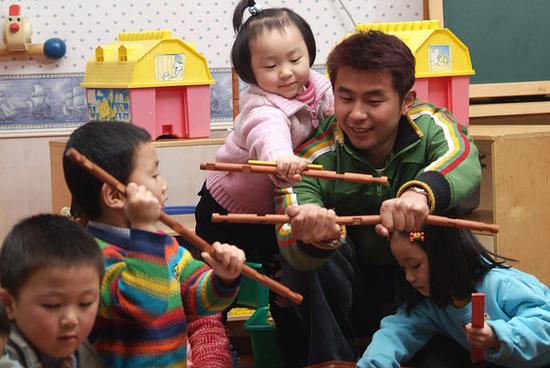 A preschool teacher plays with children in his classroom in Shanghai. (Photo provided to China Daily)
(ECNS)-- Shanghai has introduced a regulation governing the employment of people convicted of committing sexual assaults, with 16 agencies in the metropolis approving a restriction to improve protection of minors.
Applicants for professions that have direct contact with minors such as teachers, doctors, instructors and caregivers will be subject to a record check for convictions, according to the regulation. Security guards, janitors and drivers also need to comply with the new regulation.
It will be compulsory for applicants seeking jobs that have direct contact with minors to report police records of any sexual offence.
Shanghai People's Procuratorate said the employment restriction system, which will be first piloted in Minxing and Changning districts, is the first provincial-level system in the country.
It was introduced after teachers took advantage of their occupation to commit offences. The procuratorate in Minxing District suggested for the first time in 2017 that a man be banned from working as a teacher after discovering he assaulted a girl student.
In July last year, the procuratorate urged eight organizations to implement criminal history checks for jobs related to education and training, with a calligraphy teacher later banned from teaching students due to his history of committing sexual offences.