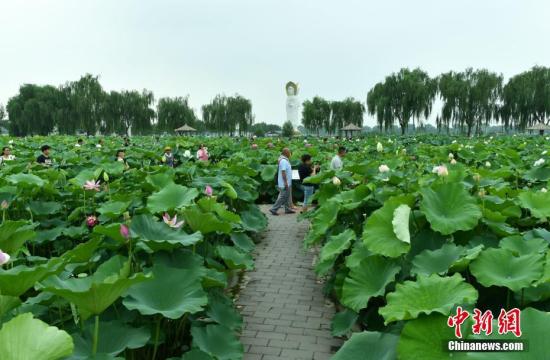 Lotus flowers bloom along Baiyangdian Lake in Xiongan New Area. (Photo/China News Service)
Special: 70th birthday of PRChina
(ECNS) -- Xiongan New Area in Hebei Province has started substantial construction since overall design of the area completed, and a county in the province will be integrated with the development with Beijing, an official said on Tuesday.
The priorities of Xiongan New Area will be comprehensive management and protection of Baiyangdian Lake along with infrastructure, peripheral transportation projects, land acquisition and resident resettlement, said Wang Dongfeng, Party chief of Hebei Province during a press conference in Beijing on Tuesday.
The Beijing–Xiongan intercity railway, which will be open to traffic next year, and the expressway linking with Beijing Daxing International Airport and Beijing metro area, will enable travelers from Xiongan to check-in their luggage locally and board the plane at the airport directly.
In future, people can live in Xiongan and work in Beijing or vice-versa thanks to the convenient public transportation network, said Wang.
Meanwhile, Beisan County of Hebei's Langfang City will join Tongzhou District in Beijing in coordinated development in four ways – planning, setting standards, policy and governance, it was added.
A plan for the integrated development of Beisan with Tongzhou has been submitted to authorities for approval.
The leading group responsible for the coordinated development in north China's Beijing-Tianjin-Hebei Province region is currently reviewing the proposal.
In April 2017, China announced the establishment of Xiongan New Area about 100 km southwest of Beijing. A master plan laying out the fundamental guidelines for its development, construction and management was approved in January.