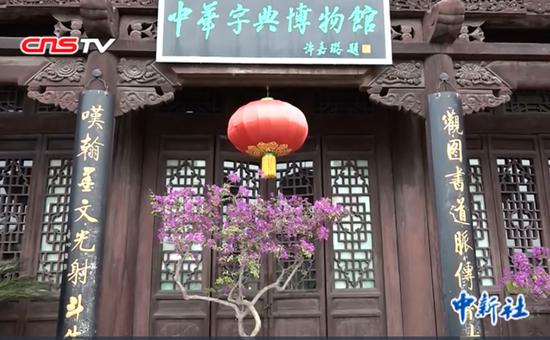 Chinese Dictionary Museum in Shanxi. (Photo/Video screenshot on CNSTV)
(ECNS) - Overseas Chinese on a cultural tour in Shanxi Province have called for the Kangxi Dictionary, the standard Chinese dictionary during the 18th and 19th centuries, to be included in the Chinese input system for mobile phones.
The Kangxi Dictionary was published in 1716, the 55th year of Emperor Kangxi's reign, and is known as the Chinese First Dictionary.
In the Internet age, handwriting has been quickly replaced by computer and mobile phone input typing. Against this background, Li Ning, vice chairman of the UK-China Economics and Cultural Promotion Association, has suggested making the Kangxi Dictionary easier to search online and adding it to the mobile phone input system, so users can understand the history and progression of characters and phrases.
Li said the standardization of Chinese characters is important for its inheritance.
Li made the remarks while participating in the 4th Cross-Straits Trade and Cultural Tour named after the Yan Emperor, a mythological deity in Chinese folk religion thought to have taught agricultural practices.
Nearly 100 overseas Chinese visited the House of the Huangcheng Chancellor in Shanxi, once home to Chen Tingjing, a premier of the Qing Dynasty (1644-1911), a teacher of the Emperor Kangxi, and the editor-in-chief of the Kangxi Dictionary.
Consisting of both interior and exterior areas, the house is one of the largest residential complexes from the Ming (1368-1644) and Qing dynasties. The house is also home to a museum of Chinese intellectual culture, including ancient paintings, calligraphies, and dictionaries.
Chinese Dictionary Museum, part of the house, has collected nearly 130 kinds of versions of Kangxi Dictionary.
In 2014, Hua Shaofeng, the owner of the Yongchang Porcelain Museum, donated a Kangxi Dictionary made in 1716. In addition to its great influence in China, there are also many versions of the dictionary that have been published abroad.