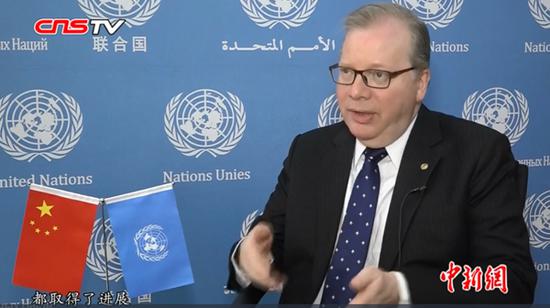 UN official Nicholas Rosellini receives interview with China News Service in Beijing, April 24, 2019. (Photo/Video Screenshot on CNSTV)
Special: 2nd Belt and Road Forum
(ECNS) -- The Belt and Road initiative (BRI) would make important contributions to sustainable development goals (SDGs) of the United Nations, a UN official said on Wednesday before the second Belt and Road Forum for International Cooperation opened in Beijing.
United Nations Development Programme Representative in China Nicholas Rosellini said in an interview with China News Service that promoting Belt and Road cooperation to achieve high-quality development corresponds to UN 2030 sustainable development goals.
"The Belt and Road Initiative makes us see the potential of collaborative cooperation," he said.
"It is potential to help countries that have not always had easy access to investment for infrastructure, energy and industrialization," he added.
The initiative is being promoted in so many countries, and it is inevitable to face challenges, he said, adding that "While promoting the economic development of all countries, it should also take into account the goals of social development in order to respond to local development needs."
"I think with this idea of quality development, if the Belt and Road as a concept, as well as individual projects, aligns with the SDGs and adopts the idea of sustainability, social, as well as economic, as well as environmental sustainability, then I think it will really help accelerate the achievement of SDGs," he said.
Rosellini said he looked forward to seeing more discussion around sustainable development during the upcoming second Belt and Road Forum in Beijing.