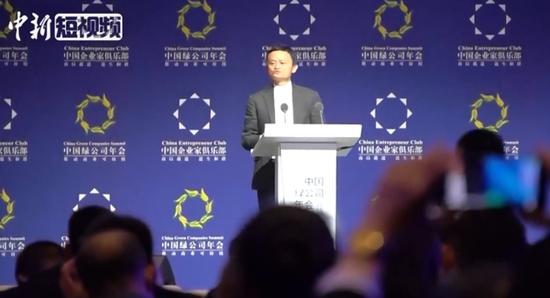 Alibaba founder and chairman Jack Ma addresses the China Green Companies Summit in Dunhuang, Gansu Province, April 24, 2019. (Photo/Video screenshot)
(ECNS) -- Alibaba founder and chairman Jack Ma highlighted the importance of big data in social development at China Green Companies Summit 2019 held in Dunhuang, Gansu Province, on Tuesday.
"Big data has nothing to do with size. It refers to big computing, with all data uploaded to a cloud computing platform," he explained.
The biggest beneficiaries of digital economy are backward regions like Gansu Province in China, it was added.
He cited Israeli agriculture as an example, saying that "the future of agriculture is data agriculture, customized agriculture and intelligent agriculture."
"In the past, farmers relied on the weather to live, but in the future, they would rely on data and computing," said Ma.
Digital economy is not only a challenge for individuals, but also for internet enterprises like Alibaba, Tencent, Baidu and Google, he said.
"In future, (big) data will be an important means of production. To live without big data in the future might be worse than to live without electricity," said Ma.