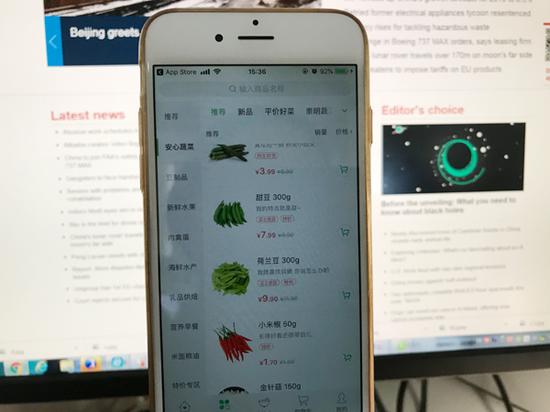 A customer orders vegetable delivery on an app, April 10, 2019. (Photo/Ecns.cn)
(ECNS) -- Amid the rise of food delivery services in China, popular mobile phone apps are quickly reshaping the vegetable market in Beijing as both consumers and vendors experience the advantage, Beijing Daily reported.
A woman surnamed Cui who lives near Andingmen in Beijing said she is too exhausted to go to the market after work and the vegetables by then are usually leftovers anyway. So, she now relies heavily on an app to purchase vegetables, sometimes at cheaper prices and with free condiments.
Li Jiankang has been selling vegetables for more than 10 years at a market in Balizhuang of Beijing's Chaoyang District. His store is not close to the entrance so he often had few customers in the past. In March, Li joined an online platform to sell vegetables and now has 2,000 online orders with revenues totaling 140,000 yuan ($20,8000).
A man surnamed Fang, 61, is the latest to join the trend. After selling vegetables for 23 years from a 6-square-meter stand at Fengqi Agricultural Market, Fang even sketched out the process of online shopping to share with his aged customers so they could place app orders.
A manager from food delivery service Ele.me said vegetable delivery service is increasing with business transactions exceeding 100 million yuan last year. A number of shops on the app completed sales ranging from hundreds of thousands to millions of yuan.
Three markets in Chaoyang, Fengtai and Tongzhou districts reported their online sales of vegetables have risen by 11 times, 3.4 times and 3 times, respectively. Another important change is the five-fold increase in number of middle-aged and elderly customers who purchased vegetables through the Ele.me app.
Miss Fresh, an e-commerce startup that delivers fresh produce, said in the first quarter transactions in vegetables jumped by 69 percent over the same period a year ago.
Investments are pouring into the vegetable sales and delivery sector. Chinese online food delivery-to-ticketing services firm Meituan Dianping started tests in two residential communities -- Tiantongyuan and Beiyuan -- to offer vegetable-to-home services within an area of 1.5 kilometers.
Beginning later this month, e-commerce giant Suning.com plans to roll out its convenience store brand Suning Xiaodian, which will allow shoppers to place orders for vegetables, meat, tofu products and fish, then visit nearby stores to collect the goods.
The fresh grocery sector in China recorded 4.93 trillion yuan ($730 billion) in total sales last year, according to data collected by Euromonitor, but most purchases were in traditional stores and supermarkets, with only 5 percent made online.