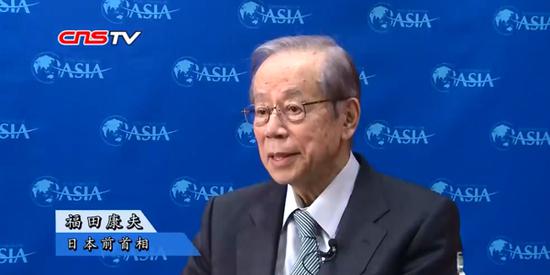 Former Japanese Prime Minister Yasuo Fukuda receives interview with China News Service, March 28, 2019. (Photo/Video screenshot on CNSTV)
Special: BoaoForum2019
(ECNS) -- Former Japanese Prime Minister Yasuo Fukuda said China's "Belt and Road Initiative" is about more than just the country's own interests, but is also an effort to build a community with a shared future for the whole of mankind.
At the Boao Forum for Asia annual conference, Fukuda said the initiative is a path to achieve harmony and peace across borders and throughout the world.
All the people of the world are on the same ship called Earth and it's necessary to join hands to face global challenges and ensure the boat is stable and able to sail to far-off places, he said.
The world is facing issues like population growth, resource/food scarcity, and environmental degradation, and everyone on Earth needs to think about those issues, he said.
Fukuda said China had made great strides in the past 70 years since its founding in 1949, but that the country should not be content with the status quo. He said China should continue its reform and development and create a better life for its people.
The stronger China becomes, the more it needs to consider how to do a good job in its overall management. In short, China is shouldered with a growing global responsibility, and the Chinese people must think from a global perspective, he said.
Japan-China relations are becoming increasingly important, and the development of the two countries is not focused solely on their own growth, but also on bringing the two countries together to benefit the surrounding areas and ultimately bring positive influence to the world, Fukuda said.