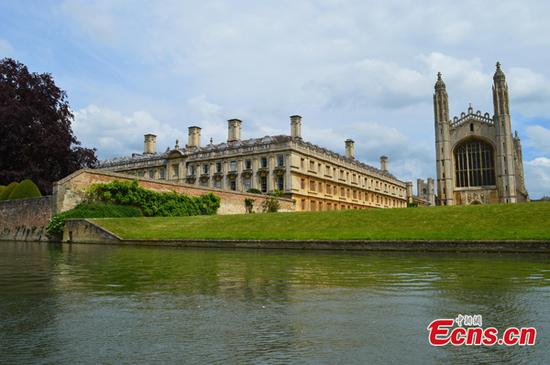 File photo of the University of Cambridge. (China News Service)
(ECNS) -- The University of Cambridge said its policy to accept China's National Higher Education Entrance Examination, commonly known as Gaokao, for Chinese applicants has been in place for several years.
Chinese media reported on Sunday that the university had joined the list of top UK schools to accept Gaokao scores for students wishing to join its undergraduate courses.
In a Chinese-language post on its official account on Sina Weibo, a popular social media platform, the university said the enrollment is based not only on test scores but a comprehensive assessment of each applicant.
According to Cambridge's website, the Gaokao is a suitable preparation for the university and the required scores for successful applicants will vary from province to province and year to year. As a guideline, successful applicants will usually have scores in the top 0.1 percent of those taking the Gaokao in their provinces.
Cambridge also encourages applicants to undertake additional studies outside of their school qualifications, such as science Olympiads, College Board SAT I or II, or Advanced Placement Tests.
Cambridge had 420 undergraduate and 754 postgraduate students from China in the 2017-18 academic year.
The Gaokao, which generally lasts for two days, is an important moment in the lives of most Chinese high school students. Their scores on the test often determine whether or not they can go to college, what colleges they can attend, and whether or not they will go on to launch successful careers.
Six other famous UK universities that accept Gaokao scores are the University of Birmingham, the University of Leicester, the University of Kent, the University of Dundee, Queen's University Belfast, and Cardiff University.