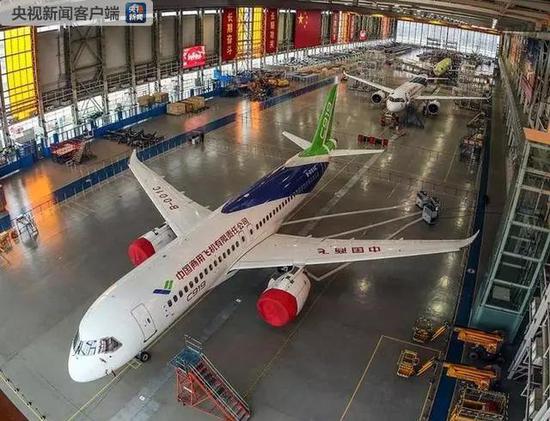 A view of China's homegrown C919 passenger jets at a base in Pudong, Shanghai on Feb. 8, 2019. (Photo/CCTV)
(ECNS) - China will have three new C919 passenger jets for test flights this year.
The three new C919 jets -- No. 104, No. 105 and No. 106 -- are undergoing preparation for the first flight test expected later this year.
Addition of the three jets would bring the total number of C919 prototype test aircraft to six.
No. 102 and No. 103 finished testing previously.
No. 102 returned from Shandong to Shanghai to further prepare for upcoming tests in about three months.
No. 103 will conduct tests at Yanliang Airport in Xi'an City, Shaanxi Province after its first flight.
The C919, China's first self-developed trunk jetliner, conducted a successful maiden flight on May 5, 2017 at Shanghai Pudong International Airport. The developer, the state-owned Commercial Aircraft Corp of China (COMAC), said it has won 815 orders for the jet from 28 clients at home and abroad.