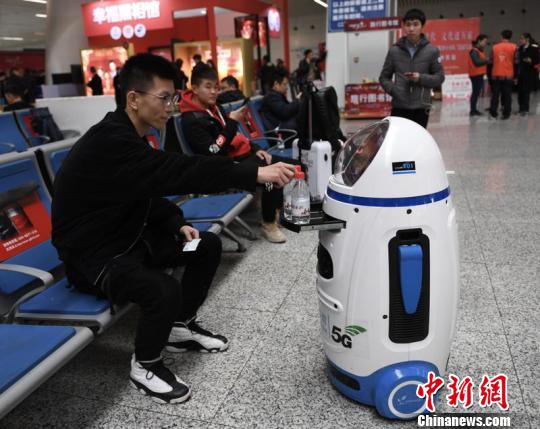 A robot offers services at the Hangzhou East Station, Zhejiang Province. (Photo/China News Service)
(ECNS) -- China's Spring Festival travel rush began Monday and authorities have introduced multiple measures to make the family reunion trip safer and easier.
Passengers traveling in southern Guangdong province to destinations in Sichuan and Chongqing can use a new service to book train tickets.
Hangzhou East Railway Station, a major transportation hub, is utilizing facial recognition technology in its self-service options, allowing passengers to pass through with their IDs in just two seconds, said Fu Zhilong, an officer at the station.
The station also has robots that can communicate with passengers and answer general inquiries about topics such as train schedules and weather information in destination cities.
The intercity railway linking Changsha, Zhuzhou and Xiangtan cities became the first in China to support an E-pass system, eliminating the hassle of buying printed tickets.
The Guangzhou-Shenzhen intercity railway now also allows Alipay, a popular mobile payment system backed by e-commerce giant Alibaba. The circular high-speed railway in China's Hainan Island has started testing the use of electronic tickets too.
During the massive annual migration, some passengers choose to ride motorcycles approximately 1,600 kilometers from the eastern economic powerhouse of Shanghai to the southwestern city Chongqing. Chongqing's traffic authorities have assigned commissioners to accompany the motorcade.
The travel rush began 15 days ahead of the Spring Festival which falls on Feb. 5 this year. In the following 40 days, from Jan. 21 to March 1, nearly 3 billion trips are to be made via China's transport system, as people rush to family gatherings or travel around the country.